Life has been soooooo manic over the last couple of weeks with 2 holidays - even though Ive been back a few days its still taking ages to catch up on everything and havent had any chance to do any scrapping...the good thing is that I now have tons of photos to print and use so watch this space!!

Spent 4 days in Slovenia for my cousins wedding which was really FAB!! They got married in Lake Bled which is possibly the most beautiful place I have ever been to and was a lovely day with the wedding in the castle and then a blessing in the church in the middle of the lake. The piccie above is me and mum (or Tanya as I called her from Fballers Wives with her long nails LOL) and below is my cousin and his new wife.
From there I was back at work for just one day and then headed of to Turkey for a week - I quite enjoyed the jetsetting lifestyle and think I could cope with it more often LOL Turkey is so lovely, although the Turks take getting used to...I dont think I could cope without going there every year. This year we stayed in Side which was really lovely and couldnt fault it at all - I have so many pics from both hols so feel to take a look at my piccie site www.bexpics.fotopic.net The pic below I love to bits - it was taken by the professional photographer in the hotel and is definitely the first one I will be scrapping!!!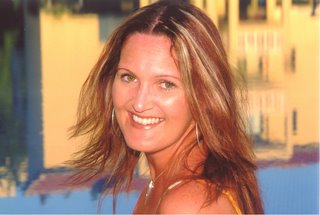 and this one comes a close second - I was going to invest in some Olan Mills prints but dont think I will now as these were so lovely!!